Disposal Information
Notes according to the Electrical and Electronic Equipment Act (ElektroG)
You are legally obliged to return used electrical equipment. Old electrical devices must not be disposed of with household waste, but must be collected separately. For this purpose, electrical devices are marked with the crossed-out garbage can.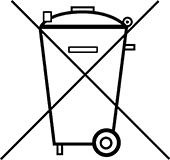 The substances contained in electrical appliances can be reused. Please disconnect batteries, accumulators and lamps that are not enclosed by the waste electrical equipment before handing in. We are legally obliged to take back old electrical devices free of charge. You can send your old electrical device back to us free of charge if you buy a comparable new electrical device. When we deliver the new electrical device, we will collect the old device free of charge. This free collection is limited to old devices in the categories of heat exchangers, screens, monitors and devices with screens with a surface area of ​​more than 100 square centimeters, and large devices. Regardless of the purchase of a new electrical device, you can send an old device back to us free of charge that does not exceed 25 cm in any dimension. If you would like to return an electrical appliance to us, please request a shipping label using our contact options on the "Contact" page. Please note that you are responsible for deleting personal data on the devices to be disposed of yourself.
As a manufacturer within the meaning of the ElektroG, we are registered with the responsible Stiftung Elektro-Altgeräte Register under the following registration number: WEEE-Reg.-No. DE35331620. Further information on the fulfilment of the quantitative targets on waste electrical and electronic equipment (WEEE) according to Sections 10 (3), 22 (1) of Germany's Electrical and Electronic Equipment Act (ElektroG) can be found on the website of the Federal Ministry for the Environment, Nature Conservation and Nuclear Safety.
Information according to the Batteries Act (BattG)
Since our shipments may contain batteries and accumulators, we are obliged under the Battery Law (BattG) to inform you of the following: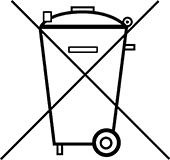 Batteries and rechargeable batteries may not be disposed of in the household waste; you are legally obliged to return used batteries and rechargeable batteries. Old batteries can contain pollutants which, if not properly stored or disposed of, can damage the environment or your health. However, batteries also contain important raw materials such as iron, zinc, manganese or nickel and can be recycled. You can either return the batteries to us after use or return them free of charge in the immediate vicinity (e.g. in stores or in communal collection points or in our dispatch warehouse). The sale in sales outlets is limited to the quantities customary for end users as well as those old batteries that the distributor carries or has carried as new batteries in its range.
The symbol with the crossed out garbage can means that you are not allowed to dispose of batteries and accumulators in the household waste. Under this symbol you will also find the following symbols with the following meanings:
Pb: Batterie contains lead
Cd: Batterie contains cadmium
Hg: Batterie contains mercury
Any questions left?
If you can't find an answer here, don't hesitate to write us an email, use our contact form or simply call us. From Monday to Friday between 8.30 and 16.30 CET our customer service is glad to be there for you.
Service hotline: +49 7031 43744-0 • Email: info@uhrcenter.de • Contact form