Environmental Protection
Information concerning the return of used batteries
Batteries are marked with this symbol to indicate that disposing of them in the normal household refuse is explicitly forbidden: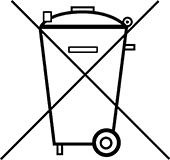 Any consumer is obligated by law to return used batteries (rechargable and non-rechargable) according to the German Battery Law. Old batteries can be handed over for free at the local municipal collecting point for such items or returned to any shop that sells batteries of that type. After they have been used up, batteries of the same type as we sell can be sent to us by the customer:
uhrcenter / Esters GmbH
Retourenabteilung
Wolf-Hirth-Str. 35
71034 Böblingen
Please cover the poles of lithium batteries with tape and make sure that they are completely discharged.
Used batteries contain valuable resources, which can be recycled. The environment and uhrcenter say thank you. Batteries may contain hazardous substances or heavy metals, which are harmful to health and environment. Batteries with hazardous substances are additionally marked with the following abbreviations:
Pb: Batterie contains lead
Cd: Batterie contains cadmium
Hg: Batterie contains mercury
Environment-friendly disposal of electrical equipment
Disposing of old electrical equipment in the normal household refuse is forbidden. This regulation concerns every electrical equipment and electronic device, no matter how old it is.
Such used appliances must be collected separately and disposed of via the local municipal collecting points or return systems for such items.
Any questions left?
If you can't find an answer here, don't hesitate to write us an email, use our contact form or simply call us. From Monday to Friday between 8.30 and 16.30 CET our customer service is glad to be there for you.
Service hotline: +49 7031 43744-0 • Email: info@uhrcenter.de • Contact form